On the rooftop we've installed wind and photovoltaic generating equipment. Walls are coated with a photocatalyst that reduces nitrogen oxides (NOx). Our building is identifiable by a mural depicting the Earth linked through forests and oceans.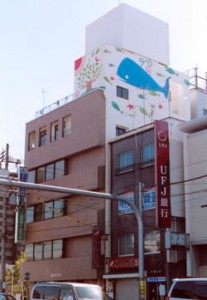 6th floor Library stacks
5th floor "ECOMUSE" Nishiyodogawa Library on Pollution and the Environment (part of the Aozora Foundation) – Holds a collection including source materials on pollution and the environment, and books useful in community development and environmental studies.
4th floor Aozora Foundation office
3rd floor Green Room (conference room owned by Nishiyodogawa Pollution Victims and Families Association)
2nd floor Nishiyodogawa Pollution Victims and Families Association office
1st floor Community space "IKOBA"
Access
Nearest Station: Mitejima Station on the JR Tozai Line
A three-minute walk from exit Gate #11 of the underground passage, on National Route 2, second building away from the UFJ Bank.