Nowadays rivers have concrete banks that effectively put them off limits to people, but originally Nishiyodogawa was a place of rivers with water weeds and fishing nets, vast expanses of rice paddies, and countless dragonflies flitting about.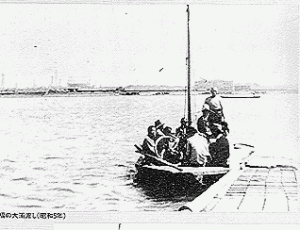 Crossing Fuku no Oura (1930)
FYI:Greater Osaka — An Introduction to Dekijima Park
"In Kanzaki River there's an island like something out of a dream — the approximately 66,000 square meters of Dekijima Park. Get off the Hanshin Railway at Chibune, and there it is before you. The verdant island divides the flow of the Kanzaki River in two. On the left bank there is a fishing village where boats rest, fishing nets hanging on them to dry, and a bridge with no one in sight. The citizens must be very happy that a park is being established in such a tranquil place only 15 minutes from Osaka."
(Greater Osaka–Issue on Greening the City, Osaka Urban Association, 1929)
Note: The photos are from a collection published by the Executive Committee on the 70th Anniversary of Nishiyodogawa's Ward Status.
River Community
<<The Land then & Now | The Way It Was(here) | Life Long Ago>>