Any history of the Nishiyodogawa area would be incomplete without relating flood and weather damage. Especially indicative of this would be the prewar Muroto Typhoon, and the postwar Typhoon Jane and Second Muroto Typhoon. Ground subsidence caused in industrialization made flood and weather damage even worse. The Sotojima Leprosy Sanatorium records the struggles of people to become human again. After it was destroyed by the Muroto Typhoon, the facility relocated to Nagashima in Hiroshima Prefecture.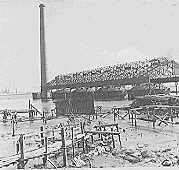 Improvement of coastal area that was inundated because of ground subsidence (1961)
Note: The photo is from a collection published by the Executive Committee on the 70th Anniversary of Nishiyodogawa's Ward Status.
Principal Natural Disasters Since 1868
May 14, 1868
Kajima Village, Mitejima Village, Fuku Village, Owada Village, Tsukuda
Village; river bank collapses at Yagura Shinden, Hiejima, Kamata Shinden,
and Hyakushima Shinden
Jul 14, 1868
Bank of former Yodo River collapses
May 18, 1871
Dikes break at river mouths of Aji R. and Nakatsu R.; flooding of Yagura
Shinden and Nunoya Shinden
Jun 1885
Severe flooding on left bank of former Yodo River, "Hirakata Break"
Aug 13, 1889
Flooding of former Yodo River
Aug 16, 1891
Storm surge; dikes along newly developed rice paddies break
Jul 21, 1896
Flooding of Kanzaki R. and Yodo R.; damage at Hiejima, Chibune, and
Utagawa villages
Sep 8, 1896
Flooding of Kanzaki R.; inundation of Mitejima, Utajima, Kajima, Hiejima,
etc.
Jul 9, 1903
Kanzaki R. overflows banks; dike at Kajima breaks
Oct 10, 1917
Heavy flooding of Yodo R.; "Otsuka Break"; flooding across vast areas
of Nishinari County
Sep 21, 1931
Muroto Typhoon, flooding throughout ward
Sep 3, 1950
Typhoon Jane, flooding throughout ward
Sep 25, 1953
Typhoon no. 13
Sep 16, 1961
Second Muroto Typhoon, flood waters above floor level in Owada, Dekijima,
Mitejima, etc.
Source: History of Nishiyodogawa Ward, 1996
Testimony: Medical Care at the Time of Typhoon Jane
September 3. Typhoon Jane assaulted the Osaka Plain at the
first light of dawn… After dawn had fully broken, I went outside and
was shocked by the sight. Power poles were listing, power lines were broken
and hanging limply, the area was littered with broken glass and roof tiles,
signboards and tin roofing had fallen, cruelly broken, all over the place…"Looks like the dike broke, and the storm surge rushed
into the area. The view from the second floor was flooding as far as one
could see, with the water up to chest level…""Doctor! It's just terrible. Apparently there are a lot
of injured people among those who fled to the elementary school for safety…""Well, then. I'll send you there on a raft."…We quickly tied together three large oil drums and
made a raft of them by putting old boards on top. A wash basin served as
my seat, and in no time we had a raft that allowed me to get around… When I reached a home, someone let down a rope from a
second-floor window. I hung my shoes from my neck and grabbed onto the
rope with all my strength. From above, members of the injured person's
family pulled, and from below Mr. Yamaguchi and other young people pushed.
The raft rocked and Mr. Yamaguchi plunged into the muddy water… Finally
our efforts brought me to the top, where I hooked my foot over the second-floor
eves and climbed up. Members of the injured person's family were so happy
they cried.
From Takeko's Memoirs of Youth: Love of Life, by
Takeko Kutsunugi, published by Seifudo, 1982.
Urbanization
<<<<War Prosperity & Industrialization | <<War Damage to Nishiyodogawa | Tyhpoon/Flood Damage(Here)