Beginning at the time of the Industrial Revolution, the Osaka-Kobe area progressively industrialized, and brought pollution problems to the fore. There were many anti-pollution movements among the farmers, but they were crushed by increasing militarization.
In the late days of WWII, the industrial zones were completely destroyed, and industry came to a standstill. Ground subsidence, which had been occurring since the late 1920s, also stopped at this time. There had been a number of theories on the causes of ground subsidence, but this corroborated the theory claiming the cause was excessive use of groundwater.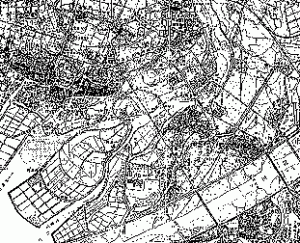 1931 map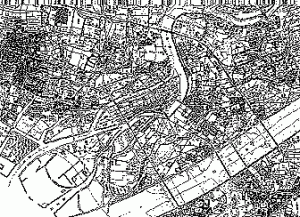 1955 map
Note: The photos are from a collection published by the Executive Committee on the 70th Anniversary of Nishiyodogawa's Ward Status.
FYI: Osaka Asahi Shimbun(from a November 16, 1936 article entitled "A City of Factories Appears")
City of Factories Appears and Keeps Growing
The Heart of Industrial Japan — Yearly Average of 200
The heart of industrial Japan, Osaka City with its boundless energy, has crossed over the Yodo River and is expanding northward. In particular, the area consisting of Owada, Mitejima, and Tsukuda in Nishiyodogawa Ward are growing at the astounding average annual rate of 200 factories a year. This vast area, which extends from the Hanshin National Highway and abuts Amagasaki City, has been stimulated by foreign trade and military demand since 1933. Clerks at the Owada government office have been bowled over by the huge number of requests for new factory construction. A survey shows that, as of yesterday, the number of factories, large and small, in this office's jurisdiction has finally topped 700.
What's more, nearly all those factories have appeared within the last three years, say the surprised officials, making this the fastest growing factory area in Japan. The number of factories with 10 or more employees, which makes them subject to the Factory Law, is 460, and the total number of employees runs to 60,000, meaning that this area has far outstripped Konohana Ward, and propelled itself to the position of industrial Osaka's heart.
( Osaka Asahi Shimbun, November 16, 1936)
Urbanization
War Prosperity & Industrialization(Here) | War Damage to Nishiyodogawa>> | Tyhpoon/Flood Damage>>>>